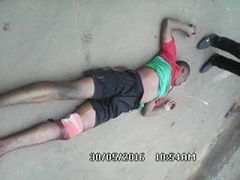 Today, Igbo /hebrew/Biafrans at home and in diaspora marked the remembrance of their fallen heroes from 1966 till date. many came out today , only to be killed by Nigerian army at Nkpor Anambra state and other places around Biafraland. very disheartening is that the army went to a catholic church where the IPOB members gathered to pray to shoot sporadically at them and more than 30 have being confirmed dead why so many are injured, alot of others were arrested by the police and are currently being detained and tortured even those with gun shots wound.
We just need to enlighten our igbo hebrew biafrans once more again, that their trouble and tribulation is spiritual until they return back to their creator( Chukwu okike Abiama and obey his laws and commandments handed over to Moses in the ancient time.this laws are the same with Igbo OMENALA( meaning rules and laws to be observed in igboland , to keep it pure, holy and undefilled) which most of you have abandoned for false Christianity and other false religions of the world used to deceive the igbos by the europeans who brought the false god and religion to africa, at the advent of transatlantic slave period.
The Most High, said , if the Igbos fail to keep their own part of the bargain with him the m . Igbos will be continually be oppressed and destroyed by their enemies, Igbos will remain in servitude to other nations on earth, because they refuse to be set apart for the most high. Igbos have taken the ways of their oppressors and such the most high will watch you get destroyed for your lack of knowledge and for being disobedient to the laws and commands of the creator of heaven and earth.
Every intelligent Igbo , will observe that despite all this killings today, there is a global conspiracy against the igbo nation, read psalm 83: 1 -9, NIGERIAN MEDIA WILL NOT REPORT THE ACCURATE STORY CONCERNING THE KILLINGS TODAY, THE INTERNATIONAL MEDIA LIKE CNN, BBC , ALJAZEERA, FOX NEWS, WILL NOT SHOW THE KILLING OF THE IGBOS TOO, BECAUSE THE MOST HIGH SAID NO ONE WILL SAVE YOU IGBOS EXCEPT HIM, THE CREATOR, SO DO NOT BE SURPRISE OVER THE SILENCE ON YOUR PLIGHT BY OTHER NATIONS OF THE WORLD.
WAKE UP IGBOS AND KEEP THE LAWS OF THE MOST HIGH SO HE CAN HEAL OUR LAND AND RESTORE US BACK TO GLORY THAT IS THE WAY OUT OF OUR PREDICAMENT, READ 2 CHRONICLE 7:14.
Igbos must know that they are of the house of JACOB, and their enemy in nigeria , being used by the western allies to exterminate the igbos are of the house of ESAU, WHICH IS THE HUASA/FULANI TRIBE).